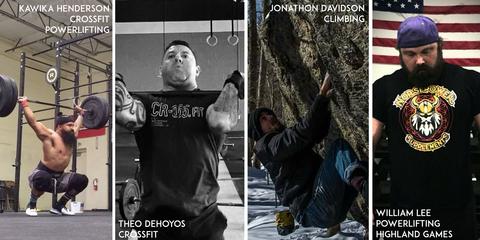 First things first: congratulations to all of our athletes for the tremendous effort they put forth in driving traffic to their pages! So without further adieu, the final and official results of the 1st quarter: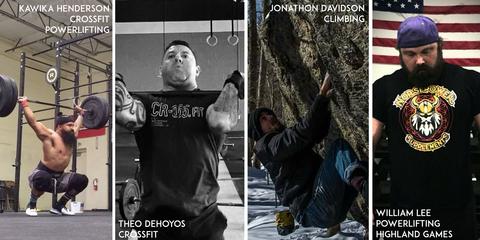 In the Crossfit division…
Our winners are Kawika Henderson with 474 points and Theo Dehoyos with 230 points!
-Kawika was born and raised in Honolulu, HI, and is the owner of Crossfit Golden TITAN: Athlete Engineering Center in Surprise, AZ. He is a former NCAA Football player, and current IPL Powerlifting world champion, Elite CrossFit and Strongman competitor
-Theo is a CF Level 2 Trainer, and has trained athletes and Soldiers everywhere the Army has stationed him. He is currently a current Army Soldier, and has been serving for 17 years now.
In the Climbing division…
Our winner is Jonathon Davidson with a whopping 878 points!
-Jonathon currently lives in Claremont, New Hampshire. He spends his summers at Rumney rocks, Cathedral ledge, and hidden crags around New England. Climbing actively since 2014, he has overcome a major injury to his wrist, having to learn how to climb in a different way afterward.
In the Highland Games division…
William Lee is our winner with 246 points!
-William is both a powerlifter and highland games athlete, who has been competing for over 10 years in both. In 2016 alone he set 14 State records 6 National records and 8 World records. He holds10 state championships, 8 national championships, and 12 World championship titles.
And In the Powerlifting division…
We have Kawika (once again) with 474 points, and William Lee with 246 points!
—
Now that Q2 is underway, we have decided to do things a bit different this time around. Rather than just one athlete recieving a prize, we will be awarding first, second, and third place. That means more prizes, more reasons to post, tag, and share your page, and more winners! We're excited, hope you all are as well!